Concrete Repair Standards & Approvals: The European Standards EN 1504 Parts 1 to 10
Since January 2009 the European Standards EN 1504 have officially replaced all of the previous British Standards and all of the other earlier European and National Standards for concrete repair and protection. Copies of these are held in each of the NCC Concrete Repair Site offices for the support and assistance of our customers and clients as and when required.
Unfortunately we are currently not allowed to post these documents electronically on this website for you to access freely, because of BSI Copyright restrictions (they want you to buy a set – currently around £1200). However we are happy to provide you with any information or details that you need to know or may require for your project.
With these Concrete Repair Standards all of the important products that are required for the repair and protection of concrete structures are defined. Quality control of the repair materials production and of the works on site, are also important aspects now included in these Standards. The contents of the European Standards EN 1504 can be summarised as follows: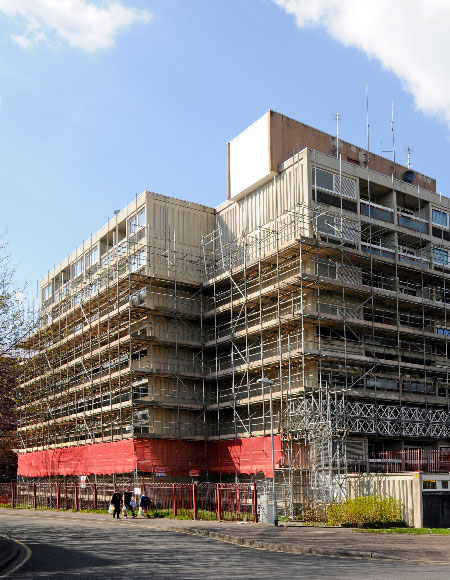 | | |
| --- | --- |
| EN 1504 – 1 | Describes the terminology and definitions used within the Standards. |
| EN 1504 – 2 | Provides specifications for concrete surface protection products and systems. |
| EN 1504 – 3 | Provides specifications for the structural and non-structural repair with replacement concrete or mortars etc. |
| EN 1504 – 4 | Provides specifications for structural bonding and strengthening applications. |
| EN 1504 – 5 | Provides specifications for concrete injection with resins or other sealing or bonding materials. |
| EN 1504 – 6 | Provides specifications for the anchoring of reinforcing steel bars with resin adhesives etc. |
| EN 1504 – 7 | Provides specifications for exposed and embedded steel reinforcement corrosion protection. |
| EN 1504 – 8 | Describes the Quality Control and evaluation of conformity required for the product manufacturers. |
| EN 1504 – 9 | Defines the general Principles and Methods to be used with products and systems for the repair and protection of concrete. |
| EN 1504 – 10 | Provides information on site application of the repair and protection products, together with the necessary Quality Control of the works. |
These Standards have been designed to help owners, engineers and contractors successfully complete concrete repair and protection works to all types of concrete structures. However due the complexity and scope of this subject, it is important that everything is brought together by a competent and experienced specialist.
CE Marking of Concrete Repair Products
The European Standards EN 1504 were fully implemented on January 1st, 2009. Existing National Standards which have not been harmonized with the new EN 1504 have been withdrawn at the end of 2008 and CE Marking of approved products has now become mandatory.
All products used for concrete repair and protection now have to be CE marked in accordance with the appropriate part of EN 1504. This CE conformity marking contains the following information – using the example of a concrete repair mortar suitable for structural use:
CE mark
01234

CE – Symbol
Identification number of the notified body

XXXXXX
??
0000 – ABC - 0000

Name or identifying mark of the producer
Year in which the marking was affixed
Certificate number as on the attestation certificate

EN 1504-3
Concrete Repair product for structural repair
CC mortar (based on hydraulic cement)

Number of the European Standard
Description of the product
Information on regulated characteristics

| | |
| --- | --- |
| Compressive strength: | class R4 |
| Chloride ion content: | ≤ 0,05% |
| Adhesive Bond: | ≥ 2,0 MPa |
| Carbonation resistance: | Passes |
| Elastic modulus: | ≥ 20 Gpa |
| Elastic modulus: | ≥ 20 GPa |
| Thermal compatibility part 1: | ≥ 2,0 MPa |
| Capillary absorption: | ≤ 0,5 kg • m-2 • h-0,5 |
| Dangerous substances: | comply with 5.4 |
| Reaction to fire: | Euroclass A1 |
CE marking is already obtained or in progress for all of the relevant Concrete Repair and Concrete Protection Products.
NCC Concrete Repair Site is available to assist and advice you on every aspect of these new Standards and how they relate and can assist you to successfully completing your project - with the right diagnosis, the right repair specifications, the right materials and application by the right contractor.