Steel Reinforcement Primers for Concrete repairs
Steel Reinforcement Primers are important in complete concrete repair and protection systems, where they are designed to provide additional protection and act as a barrier to prevent any future water penetration and corrosion of the steel surfaces. The steel reinforcement primer is applied to any exposed steel reinforcement that has been cleaned and prepared, preferably by mechanical blast-cleaning, once the damaged concrete and any contaminants such as chlorides have been removed. Steel Reinforcement Primers are also particularly useful when the profile or other constraints of the reinforced concrete structure or element, mean that the correct thickness of concrete cover cannot be reinstated over the steel reinforcement bars. Additionally they can be used as a barrier when even after the washing, cleaning and preparation works; there are still potentially residual contaminants, such as chlorides, in the adjacent existing concrete.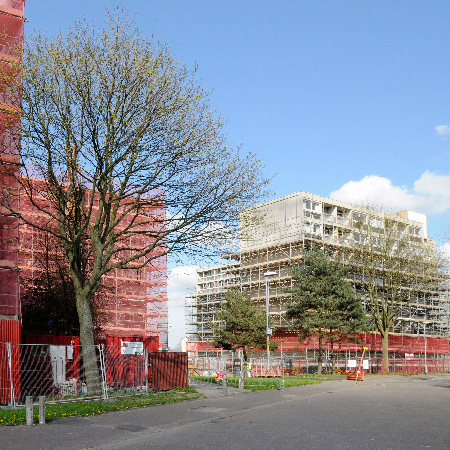 Steel Reinforcement Primer products are normally designed to provide this additional protective barrier around the steel reinforcement that prevents the future ingress of water and other aggressive liquids or gases to the steel surface. Additionally some steel reinforcement primers also contain or has electrochemically active pigments that can block or inhibit corrosion.
In the European Standard EN1504: Part 9 Principle 11 Control of Anodic Areas. Methods 11.1 (Active coatings) and 11.2 (Barrier coatings) can both apply dependent on the requirements on each individual structure and concrete repair project.
Exposed Steel after Carbonation on a Balcony Soffit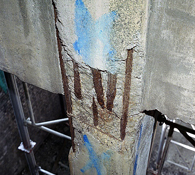 Exposed Steel Damaged by Chloride Accelerated Corrosion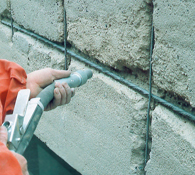 Blast Cleaning Exposed Steel before Primer Application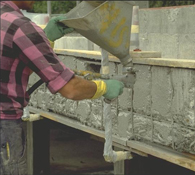 Spray Application of Steel Reinforcement Primer on Exposed Steel
For independent advice and detailed information on your specific concrete repair project requirements, please follow the links at the Top and Left of this page, or you can call any of our offices and one of our concrete repair specialist will be pleased to assist you.