Repair Mortars / Replacement Concrete + Sprayed Concrete Repairs
Concrete repair mortars are generally classified as 'Replacement Concretes', in the European Standards and are to be selected according to the structural strength and exposure requirements of the structure. Concrete repair mortars are described and detailed in European Standard EN 1504: Part 9 Principle 3 Concrete Restoration. These concrete repair mortars are then subdivided and classified according to their method of application / installation i.e.
Method 1 Hand Applied Concrete Repair Mortars (hand / trowelled)
Method 2 Machine Applied (Sprayed) Concrete Repair Mortars
Method 3 Poured / Flow Applied (Recast) Concrete Repair Mortars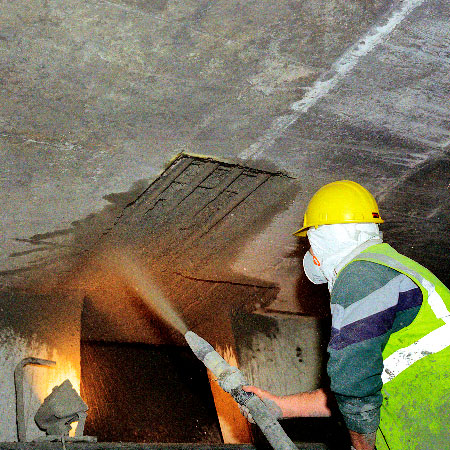 1. Hand Applied Concrete Repair Mortars:
Hand Placed Concrete Repair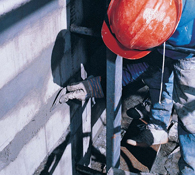 Hand Applied Concrete Repair Mortar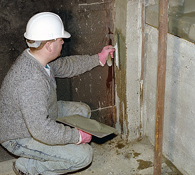 Concrete Repair By Hand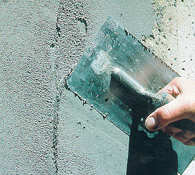 Hand Trowelling of the Concrete Repair Mortar
Hand placed concrete repair mortars should normally be pre-batched, cement based mortars possibly modified for improved strength or resistance with polymers and / or other additions such as silica fume, or special graded sands and aggregates, etc.
Hand applied concrete repair mortars are applied by gloved hands or trowels and finished by trowel, to match the original line and profile of the parent concrete. They are ideal for patch repairs and repairs to concrete spalling in areas of locally corroding reinforcement, etc.
NCC, the creator of Concrete Repair Site, is a major distributor of hand applied concrete repair mortars, and many other special concrete repair products that are available for all kinds of specific repair applications. this includes concrete repair mortars that are specifically designed for structural concrete repairs, cosmetic concrete repairs and lightweight concrete repair mortars for easy overhead application.
Please contact any of our offices for advice and assistance with the selection of the right hand placed, or any other type of concrete repair product for your specific refurbishment project.
2. Machine Applied / Sprayed Concrete Repair Mortars: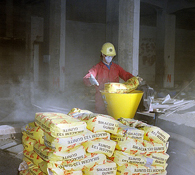 Sikacem Gunite Sprayed Concrete Repair Mortar On Site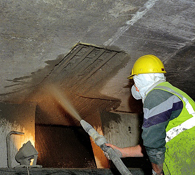 Concrete Repairs by Dry Spray Application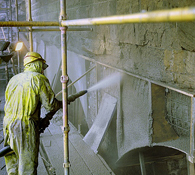 Dry Spray Application of Sikacem Gunite Concrete Repair Mortar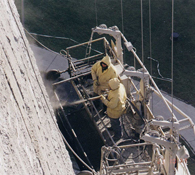 Machine Applied Concrete Repairs on Silos From Cradles
Machine applied / sprayed concrete repair mortars are now also supplied generally pre-batched for most projects in order to meet Quality Control and performance standards, like hand placed concrete repair mortars they can also be modified with polymers and other additives to improve their performance, particularly the cohesion of the sprayed mortar, which can also therefore greatly reduce the amount of rebound and wastage.
Machine Applied Concrete Repair Mortars are primarily designed for use where large volumes of the repair mortars are needed, or where a significant volume has to be applied as fast as possible to minimise downtime or closures.
Traditional Gunite systems for sprayed concrete repairs are not normally pre-batched but produced on site - therefore they are now generally only used for applications requiring thicker layers of repair, where their constituent materials grading and granulometry is not as critical as it is for layers of sprayed concrete below 50mm thickness for example.
Machine applied concrete repairs / Sprayed concrete repairs / Gunite concrete repairs are a specialist area requiring specialist sprayed concrete equipment, operative training and materials - therefore Concrete Repair Site has produced a dedicated page on this website for this method and these concrete repair materials 'Sprayed Concrete Repairs / Machine Applied Concrete Repairs / Gunite Repairs'.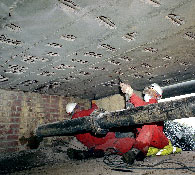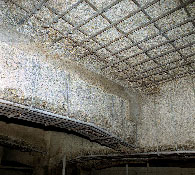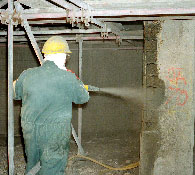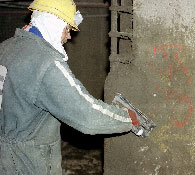 NCC Concrete Repair Site is very experienced in both the dry and wet processes for machine applied concrete repairs and in the use of sprayed concrete materials including Gunite systems. For specific advice or assistance on your project please call any of our offices – our concrete repair specialists will be pleased to help.
Most sprayed repair mortar applications require specialist equipment, training and experience, therefore we do not include many concrete repair mortar products that are designed to be exclusively spray applied in our Online Shop, although with the right knowledge and equipment it is possible to wet or dry spray almost any mortar products these days – Please call any of our office for specific advice on any aspect of sprayed concrete repairs.
3. Poured / Flow Applied Concrete Repairs (Re-casting Concrete Repairs):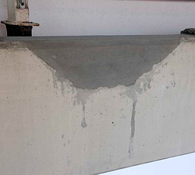 Concrete Beam Repair to a Beam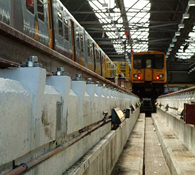 Poured Concrete Repair to a Structural Rail Support Beam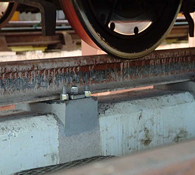 Poured Concrete Repair to the Rail Bearing Pad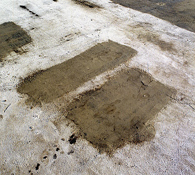 Poured Concrete Repair to a Horizontal Bridge Deck
Poured / Flow Applied Concrete repair materials are also now normally always supplied as pre-batched mortars for Quality Control purposes, as they are frequently used where there is difficult access or around congested reinforcement. This means that their aggregate grading and granulometry, their Water : Cement ratio and in particular, their flow properties, must all be as specified and consistently so. Therefore these concrete repair materials are also modified with polymers and super-plasticizers that improve their flow and ensure a good surface finish against the formwork. Concrete repair products used for flow application in smaller scale repair / re-casting situations are also frequently known as 'grouts' and based on modified cement grout technologies.
NCC Concrete Repair Site is one of the UK's largest suppliers of these specialist flow applied concrete repair mortars and specialist cement grouts (and also even higher strength epoxy grouts where required) for all types of concrete repair works. Please contact any of our offices for advice and assistance with the right flow applied concrete repair or grouting product selection for your specific project.