Protective Surface Coatings
Protective surface coatings are primarily used to protect new or repaired concrete surfaces from future chemical attack (e.g. against sulphurous and nitrous pollutants) and the ingress of aggressive liquids and gases (e.g. waterborne chlorides or atmospheric carbon dioxide). This concrete surface protection can also be specified to be: water-repelling through impregnation and pore blocking; elastic and crack-bridging (to different degrees of elasticity at different temperatures); resistant to different chemicals (such as in containment zones); or abrasion and wear resistant (e.g. on horizontal concrete surfaces such as balconies and car park decks).
In order to meet all of the different requirements for concrete facades and horizontal concrete surfaces on different structures and in different exposure conditions, there are a wide range of different protective concrete coating products and systems required.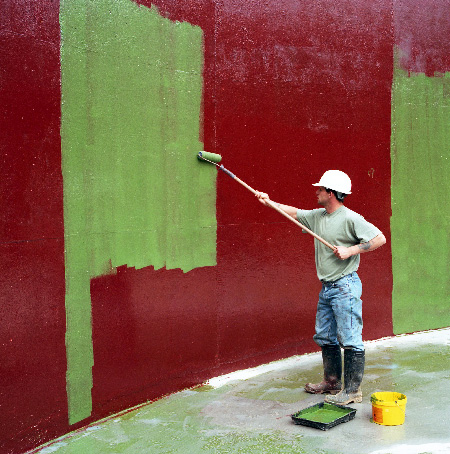 On reinforced concrete facades single pack, acrylic resin based anti-carbonation coatings are normally ideal as the protective coating solution. Also ideal are protective coatings based on, elastic film-forming, styrene acrylates or other copolymer resin based products, which should be used when additional crack-bridging properties are required. On horizontal decks for combined chemical and wear resistance, the best protective deck coating products are usually 2 component epoxy and polyurethane resin based solutions that are specifically designed to accommodate this additional stress and exposure.
In the European Standard EN1504 Part 9 Principle 1 (Protection Against Ingress) Method 1.2 Surface Coating - With or Without Crack-Bridging Capability; Principle 2 (Moisture Control) Method 2.2 Surface Coating; Principle 5 (Physical Resistance), Method 5.1 Overlays or Coatings; Principle 6 (Chemical Resistance) Method 6.1 Overlays or Coatings; Principle 8 (Increasing Resistivity) Method 8.1 Increasing Resistivity by the Use of Surface Treatments or Coatings; and Principle 9 (Cathodic Control) Method 9.1 Limiting Oxygen Content (at the Cathode) by Saturation or Surface Coating – All of these Principles and Methods can apply as appropriate for the individual reinforced concrete structure's condition and requirements.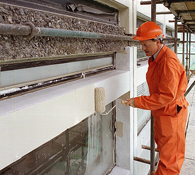 Applying Protective Surface Coating by Hand
Applying Protective Surface Coating by Airless Spray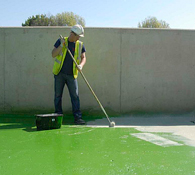 Applying Heavy Duty Protective Coating in a Chemical Containment Tank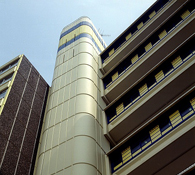 Protective Surface Coatings Work Completed
The characteristics and performance requirements for Protective Surface Coatings to be used on reinforced concrete are defined in the European Standard EN1504 Part 2, with the appropriate product selection then to be made in accordance with the specific requirements and exposure conditions of your project.
NCC has extensive expertise in protective coating and application technologies and will advise on the most appropriate materials, specific products and their optimum method of application for your specific project requirements. Please call any of our offices for expert assistance on any aspect of protective coatings for concrete surfaces.